Photo reblogged from No Orders at the Window: Unsolicited Life Stories with 27,258 notes
…this is why cat owners can't have nice things.

He's going to jump out at some poor, unsuspecting human and give them a heart attack.
This is an early Christmas present fic for Ashy, cause it's too long to fit on her card! 
Happy Christmas from me and Danny bb *mwah*
"Ginger! Giingeer…where is that blasted cat!" Danny was at his wits' end, they'd been searching for at least an hour already for the missing cat. She had disappeared earlier when they had been distracted with preparing for the weekend's Solstice celebrations. Anders had been called to the clinic for a refugee woman with a difficult birth, Lirana's face had been serious when she came for him, apparently the baby had a small chance of survival and the mother none at all without Anders. Danny, Orana and Sandal were left with the work of getting the house ready. 
He'd looked everywhere, under the bed, in the wardrobe - even in the bathroom. They'd coordinated their efforts after a while, so that whenever one of them had searched a room they would close the door so she wouldn't wander in afterwards. And nothing, no sign of her. 
The rest of the day passed in much the same fashion with Danny's nerves being well and truly frayed from waiting for Anders's return and how in the world was he going to explain Ginger's disappearance. 
It was almost midnight when Anders returned, looking exhausted and haggard. He shook his head slightly as Danny looked at him questioningly - it hadn't gone well then. It was enough to break Danny's heart a little, as every time Anders was upset for any reason. He tries so hard to save everyone, and then he blames himself when he cannot. And I cannot even take care of a blighted cat. 
Danny bit his lip in indecision, should he tell Anders right away or wait until later? Anders made his way to the library and Danny followed. He paused in the doorway for a moment and just watched as Anders shucked off his coat, flung it on the chair and walked over to stand by the fireplace, leaning on the mantel with his head in his arms. 
"Honey…you look shattered. Let me run you a bath and we'll go to bed early? I'll show you the decorations tomorrow OK?" Danny called softly from the doorway. His attention was diverted by rustling from the Yule tree in the corner of the room. They'd put it up earlier in the day and its sweet smell filled the room. Danny had enchanted a string of glass beads and they'd strung it on the branches, just something to lighten the darkness this time of the year. But, now that he looked again there was something…decidedly not belonging to the tree sitting on one of the branches.
"Ginger! Why you…you devious minx! You've been hiding here the whole day haven't you! I've been going crazy looking for you and you…" Danny stopped and looked around to see Anders laughing and shaking his head.
"Oh baby, don't tell me you've spent the day looking for her? She came here before I left, I could have told you this would be her favourite spot, cats like to hide. Oh…Maker, this made me feel so much better…oh come here," he stepped closer and pulled Danny into his arms, "I think I would love a bath and early bed tonight, I would like that very much indeed."
Source: gofuckingnuts
Post with 12 notes
Yeah this 30-day character development thing? Well I can't imagine I'd stretch it over 30 days, I would fizzle out somewhere around Day 6. So, figured I might do all this at once. :D
This is for Daniel Hawke, aged 18 1/2. 
1.) Describe your character's relationship with their mother or their father, or both. Was it good? Bad? Were they spoiled rotten, ignored? Do they still get along now, or no?
Danny adored his father, absolutely hero worshipped him. His father taught him to play baseball as his own father before had taught him. Danny was totally a daddy's boy growing up, mom only featured in the background, a loving but distant figure. Then his father died suddenly when Danny was 12 and his world fell apart. His relationship with his mother was never the same, she has grown more and more inwards and away from her children. 

2.) What are your characters most prominent physical features? Eyes. They are a stormy grey-blue colour but they never seem to be the exact same colour at any given time. They are variably described as sea-grey, ocean-blue or any combination therein. 
3.) Name one scar your character has, and tell us where it came from. If they don't have any, is there a reason? About a 6-inch scar on his right side, it's faded by now of curse but it's the only one he has. He was playing in the garden with his younger brother and fell off a tree onto some rocks, gauging his side open in the process.
4.) How vain is your character? Do they find themselves attractive? Danny is not vain. He looks after himself physically very well, being an athlete but otherwise…he tends to dress in whatever clothes happen to be clean at the time, he rarely combs his hair after a shower or otherwise pays attention to his looks. The only time you would ever catch him looking into a mirror for longer than 10 seconds is when he's shaving, he prefers being clean shaven to having a stubble. 
5.) What's your character's ranking on the Kinsey Scale?  5. He's mostly homosexual apart from one heterosexual partner in the past. 
6.) Describe your character's happiest memory. Danny had a childhood filled with happy memories, most revolving around baseball. But recently, the memory that makes him the happiest is when he kissed Quinn for the first time. 
7.) Is there one event or happening your character would like to erase from their past? Why? His father's death. It was the single most traumatic event of his life. 

8.) Day of Favorites! What's your character's favorite ice cream flavor? Color? Song? Flower? Icecream: CherryGarcia Colour: Midnight blue Song: varies so very much almost on a daily basis but a constant for a while has been Bat For Lashes- Daniel Flower: Danny doesn't not recognise flowers beyond the obvious ones like rose and tulip or dandelion, so he doesn't have one (and besides, isn't that a girly thing to have?)

9.)  Who does your character trust? Implictly three people: His sister Maria, best friend Correm and boyfriend Quinn. These three are his inner circle, they know his secrets and he trusts them with his life if necessary. 
10.) Can you define a turning point in your character's life? Multiples are acceptable. Death of his father. Meeting Correm aged 13. Meeting Izzy. Meeting Quinn.
11.) Is there an animal you equate with your character? no…not really. 
12.) How is your character with technology? Super savvy, or way behind the times? Letters or email? Email and chat all the way. Danny totally has the latest smartphone and is familiar with all its features. 

13.) What does your character's bed look like when he/she wakes up? Are the covers off on one side of the bed, are they all curled around a pillow, sprawled everywhere? In what position might they sleep? Sprawled every which way usually, with the sheets tangled around his legs. 
14.)  How does your character react to temperature changes such as extreme heat and cold? Doesn't take well to either extreme, prefers moderation
15.) Is your character an early morning bird or a night owl? a night owl, has trouble waking up in the morning 
16.) Are there any blood relatives that your character is particularly close with, besides the immediate ones? Cousins, Uncles, Grandfathers, Aunts, et cetera. Are there any others that your character practically considers a blood relative? Older sister Maria. He does not have close relations with anyone else related to him by blood. Except for Angel Vaughn, she is semi-related about three generations back, they are close but not extremely so. Danny considers Correm and his sister Bethany as good as blood relatives.

17.) What's your character's desk/workspace look like? Are they neat or messy? Actual desk is clear, if only because he has to work on it. Rest of the room is a messy clutter. 
18.) Is your character a good cook? What's their favorite recipe, whether they're good or not? (Microwave mac-and-cheese applies.) (ha!) Danny is an excellent cook. He is particularly skilled in baking and his favourite thing (to eat and bake) is cinnamon rolls. 
19.) What's your character's preferred means of travel? Danny does not drive. If he needs to go anywhere he cannot walk, Correm drives him. 
20.) Does your character have any irrational fears? none
21.) What would your character's  cutie mark be? I actually have a Pony!Danny (though of the older version), here: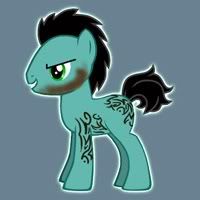 22.) If your character could time travel, where would they go? Probably to the Regency time, late 18th century
23.) Is your character superstitious?  not at all 
24.) What might your character's ideal romantic partner be? They have already met him, Quinn Owens
25.) Describe your character's hands. Are they small, long, calloused, smooth, stubby? strong but slender hands, long fingers though he tends to bite his nails when agitated 
26.) Second day of favorites! Favorite comfort food, favorite vice, favorite outfit, favorite hot drink, favorite time of year, and favorite holiday. Cinnamon rolls, cigarettes, jeans/tshirt/trainers, hot chocolate, autumn, somewhere warm - like Rivain
27.) Pick two songs that describe your character at two different points of their life, and explain why you chose them. Pass, just cause I'm too tired to traipse through all the choices
28.) If your character's life was a genre, what would it be? romantic drama I think
29.) How does your character smell? Do they wear perfume or cologne? Danny smells mostly of baking substances: sugar and cinnamon and cardamom and chocolate. He does not wear cologne or perfume, only plain deodorant
30.) And finally: Write a letter to your character, from yourself. 
Dear Danny,
I love you. Really, I do. It's a combination of the feelings Maria and Quinn and Correm feel for you, mostly I just want to hug you and tell you how proud I am of the choices you are making and the man you are on your way becoming. And how different you turned out to be than I originally had planned, goes to show that RP can - and does - have a life of its own.